"If we manage to arrange Sehri, then it is difficult to arrange Iftar."

says Ismat Ara, a mother from Tahirpur
This Ramadan, let us fast and feast together 
Rising inflation and the global food crisis around the world are severely affecting families like Ismat Ara's, causing malnutrition in children.
This Ramadan, as we come together to commemorate the holy month through prayers and fasting, let us also remember children and families like Ismat Ara's, who cannot afford a proper meal to break their fast.
Your generosity can help UNICEF fight malnutrition and deliver life-saving therapeutic milk to children like eight-month-old Mahdi in Bangladesh.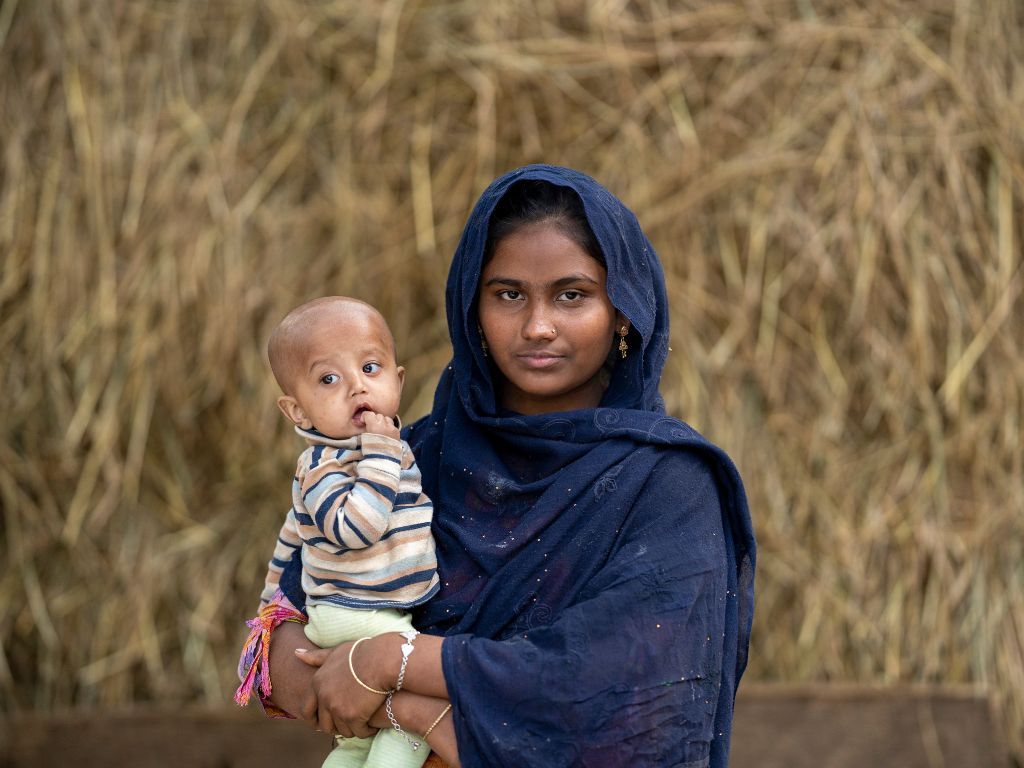 UNICEF impact in Bangladesh
766,819 children
aged under 2 years, were reached in 2022, with services to prevent stunting (with counseling on Infant and Young Child Feeding); and other forms of malnutrition.
3,292,594 women
reached with quality nutrition services and support.
2,440,000 additional people
gained access to safe drinking water supply services in 2022.
Ramadan for Bangladesh
Your donation can help many children in Bangladesh
This Ramadan let your good deeds echo across the nation
Meet eight-month-old Mahdi 
UNICEF supports many Severe Acute Malnutrition Treatment units, like the one in Tahirpur Upazila Health Complex, that is treating children suffering from acute malnutrition. 
Meet Kazi Jannatul Wakeya from the UNICEF team
Every day UNICEF team members, like Jannatul Wakeya, are working tirelessly to ensure the delivery of critical solutions to save and nurture the lives of children across the country.
Meet nine-month-old Farhan Hasan and his family
Supported by UNICEF, the newly established community clinic– Aalo in Korail, Dhaka– helps children and families like Farhan's to access quality healthcare.
Meet seventeen-month-old Ayesha from Barguna
UNICEF works closely with the Government and local partners to raise awareness and equip children with swimming skills so that more children like Ayesha can be saved from drowning, during floods and throughout the year.
Meet these children from Sunamgonj, Sylhet
UNICEF works closely with the Government and partners to provide learning opportunities that prepare children with the knowledge and skills they need to thrive.
How your donation will help
Ramadan is the month of giving, and what better way to give than to help a child in need?
UNICEF and partners are working tirelessly to provide life-saving assistance for children and families in need. Together, we can make a lasting impact this Ramadan and bring the gift of hope to those in need.
Give today and help UNICEF deliver life-changing solutions to communities in Bangladesh.
Your donation will help UNICEF support child health and nutrition, immunization/vaccination, safe water and sanitation, HIV prevention and treatment for mothers and babies, and the protection of children and adolescents from violence and exploitation.
Your donation will help UNICEF and partners reach more children and adolescents with quality learning opportunities, preparing them with the knowledge and skills they need to thrive.
Your donations will support UNICEF's work in building long-term resilience in communities to help them recover and prepare for future disasters and mitigate the detrimental effects of the current climate crisis.
Frequently asked questions
UNICEF was established in the aftermath of World War II to help children whose lives and futures were at risk – no matter what country they were from. The only thing that mattered to UNICEF was reaching children in need.  
The same holds true today. We work day-in and day-out, in some of the world's toughest places, to reach the children and young people who are most at risk and most in need. We work to save their lives. To protect their rights. To keep them safe from harm. To give them a childhood in which they are protected, healthy and educated. To give them a fair chance to fulfill their potential.  
We are UNICEF. We stand for every child, everywhere. And we never give up. 
UNICEF is funded entirely through voluntary contributions from governments, intergovernmental organizations, the private sector, foundations, and individuals. Thanks to donors, UNICEF makes a difference for children in need. We are active in over 190 countries and territories and have helped save more children's lives than any other humanitarian organization. We could not continue our efforts without the support and generosity of donors, and we hope you will consider joining the UNICEF family. 
UNICEF is the only UN agency that depends on voluntary contributions. UNICEF relies on voluntary contributions from public donors, businesses, foundations and individuals. The money that is raised in Bangladesh is utilized for our programmes in Bangladesh. Donations are needed to ensure UNICEF can sustain its programmes and work with partners and the Government. With a growing economy and slowdown in foreign contributions, UNICEF Bangladesh seeks your support to help ensure that every child in the country has a fair chance and start in life. 
Yes. All money that is raised in Bangladesh will support UNICEF's work for children in Bangladesh.
UNICEF undergoes regular and extensive internal and external audits to ensure the proper use of funds. Transparent annual reporting is publicly available. UNICEF staff conduct regular field visits and monitor the progress of all UNICEF programmes.
We will be sending you regular updates in the form of e-mails, digital communication, etc., of the progress that has been made and keep you updated about UNICEF's work in Bangladesh, in the region, and around the world.
The current scope of operations in Bangladesh does not warrant UNICEF channeling material supplies from donors. UNICEF supplies materials like vaccines, medicines, and education materials etc., which are as per the exact specifications required at the ground level and based on consultation with the Government of Bangladesh.