The chronic shortage of food supplies and water caused by drought, disease and conflicts in some  of Africa  are now driving a massive humanitarian crisis, leaving 1.3 million children at imminent risk of death from Severe Acute Malnutrition.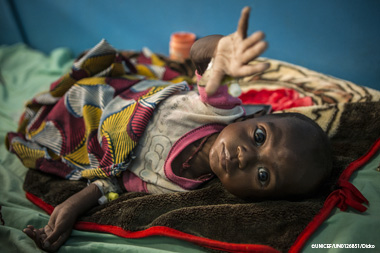 Severe Acute Malnutrition mostly occurs when children suffer from inadequate quantity and quality of food intake.
Acute malnutrition reduces resistance to disease and impairs a whole range of bodily functions. It can also be a direct cause of organ failure and death.
In 2017, UNICEF provided a humanitarian assistance to over 2.5 million children who suffer from Severe Acute Malnutrition mostly in parts of Africa. But our mission is far from over as now more than 1.3 million children are at imminent risk of death from severe acute malnutrition (SAM) due to famine in South Sudan and the risk of famine in north-east Nigeria, Somalia and Ethiopia.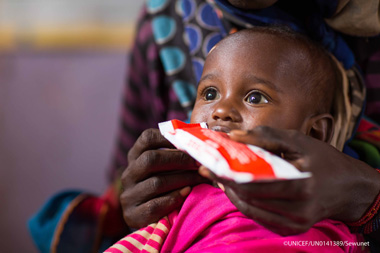 As UNICEF races against time to give children a chance to survive, the organization faces a financial gap.
Your generous donation will help ensure that miracle does exist.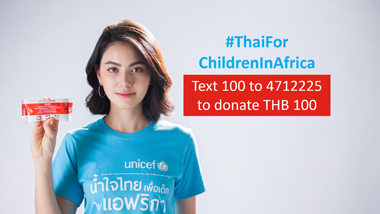 You can also donate through SMS by texting 100 to 4712225 to donate THB 100. THB 100.00 will provide life-saving therapeutic food, which can feed a child for 2 days.
Or you can donate to UNICEF via bank transfer to UNICEF account at
Kasikorn Bank, Banglumpoo Branch, Current Account, Account No. 008-1-09766-6
Please fax pay slip to 02-356-9229 or 02-281-6033 or email to unicefthailand@unicef.org and write "O0718" on the slip. Please also provide your name, address and mobile phone number so we can send you the receipt.
*   SMS donation is subject to 7 percent VAT and not tax deductible.
** Donations made to this appeal will be used for procuring therapeutic food and other lifesaving products for children in Africa and around the world.